With Brendan Scott
"Join me for an experience you will never forget. This is a fabulous tour, visiting many of the most remote, historic, and beautiful places in Outback Australia. Plus a feast of great Aussie music, comedy, bush poetry and good times!" – Brendan Scott
Tour price: PP twin share - $6295
Single supplement $1095
Tour dates: 13 to 27 September 2024
Itinerary - visit these fabulous and beautiful locations:
Adelaide
Hahndorf
Barossa Valley
Flinders Ranges
Marree
Birdsville
Innamincka
Tibooburra
White Cliffs
Broken Hill
Mungo National Park*
Mildura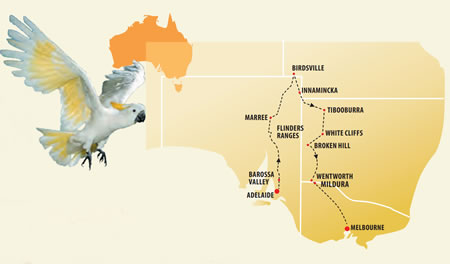 Brendan Scott is an accomplished and experienced performer who has been part of the Australian entertainment industry ever since his stage debut at age 4. He has worked in all facets of the entertainment industry and continues to use his wealth of experience to entertain audiences in many parts of Australia. In his performances, Brendan showcases his many talents. Not only does he sing many well-known songs, he also plays piano, guitar, saxophone, banjo, and violin. If that's not enough, Brendan often surprises audiences by launching into a Tap Dance. Add to this Brendan's flare for audience interaction and participation as well as his ability to have people in stitches with his comedy, and you have a complete entertainment experience.
Visit the R.M.Williams Outback Heritage Museum, Hahndorf region in the Adelaide Hill, Wilpena Pound, historic copper mining town Burra, the exceptional and beautiful Parachilna Gorge. We visit Birdsville to see and climb Big Red, a huge sand dune at the edge of the Simpson Desert plus stay in the pub. See Innamincka which is situated on Cooper Creek close to where the ill-fated Burke and Wills expedition of 1860-61 came to its tragic end.
Plus enjoy shows by these entertainment legends Dave Prior, Broken Hill Civic Orchestra, Marananga Brass Band and The Boarders. You'll be very happy with the quality of our tours.
DAVE PRIOR
Dave Prior is an outstanding Country singer, songwriter and comedian, from South Australia. For many years he worked in the commercial radio industry, as an announcer, program director and station manager. However, a mid-life career change saw him working as a singer/comedian, including touring with Adam Harvey, Doug Walters (cricketer), and Rodney Vincent. Dave has released many CDs, including an outstanding Merle Haggard tribute CD, Silver Wings and Haggard Things.
BROKEN HILL CIVIC ORCHESTRA
The Broken Hill Civic Orchestra was established in 1975. It had 25 members for its first performance. The orchestra has continued with an annual program of concerts since that time. Like most community orchestras, BHCO consists of a string section, woodwind section, brass section and percussion section. The orchestra plays a wide range of music including classical and well-known popular music. The current conductor of the orchestra is Mark Curtis.
MARANANGA BRASS BAND
Brass bands have been part of the Barossa's heritage for more than a century. This community brass band was formed in 1925, with 25 local musicians. Today the band is made up of about 45 local musicians, both young and old. The band rehearses every Tuesday night in its own purpose-built hall, the Marananga Brass Band Room. The band puts on an annual concert, in the Barossa Valley, called 'A Night of Music'. We are the special guests at the 2024 concert, celebrating the band's 100th year.
THE BORDERERS
"The passion in The BordererS music comes from growing up in really tough and bigoted areas of Glasgow and Belfast. The dream was to escape that life and start again. Australia gave us that chance." – Jim Paterson, The BordererS. Jim and Alex arrived in Australia over 20 years ago, not knowing each other. They met in a recording studio in Adelaide. They are now one of the most outstanding, and exciting, Celtic/ Country music acts in Australia. Alex is the lead singer...she has a beautiful voice.
This is a thoroughly enteraining outback tour which we have run several times over the years. Enjoy the experience we bring to this wonderful tour!
Click here to download brochure ( 1.4MB PDF)
Join one of our sensational 2023/4 music tours or cruises. We have a variety of tours, including overseas tours, Australian tours and a international cruises. Download and print the brochures or contact Travelrite Toll Free on 1800 630 343 and ask for brochures to be mailed to you.
Current Tour/Cruise Brochures with full itinerary for 2023/4 - Phone Travelrite toll free on 1800 630 343